Continuous Improvement Software:
Start Improving Your Business Today

The Innolytics® Continuous Improvement Software supports your business to become a leader in process efficiency. Be ahead of your competition. Drive your continuous improvement process towards the digital age.
Start cross-departmental discussions about your business challenges,

develop and evaluate proposals to increase efficiency,

implement improvement initiatives successfully.
Continuous Improvement Software: Simple. Effective. Integrated.
Innolytics® Continuous Improvement Software is designed for companies looking for a simple, yet effective solution. Integrate it easily into all your business functions: Occupational Health & Safety, IT Security, Supply Chain Management, Quality and Sustainability Management, Knowledge and Innovation Management.
Smart functions for a smart continuous improvement process
Enter suggestions for improvement
Improving processes and workflows has never been so easy as with Innolytics®. Wherever you are: in a workshop, at the production line, or on the way to work, whenever you and your co-workers come up with ideas for the continuous improvement process, you can enter them as suggestions. Use a PC, your tablet, or a smartphone.
Evaluate suggestions
Get to know the evaluation and prioritisation system of the Innolytics® continuous improvement software! Find out how you can set up criteria for the evaluation and carry out structured assessment processes. You can have suggestions evaluated by all platform users and CPV experts. The prioritisation functions allow you to quickly and easily filter out the best ideas that your CIP team can feasibly implement.
User administration
Your teams are distributed at different locations? Do you have different managers or working groups for topics such as product quality, process quality or service quality? The Innolytics® continuous improvement software user administration makes it possible to create profiles, set up user groups, and network your teams in a continuous improvement process.
Overview of selected functions
Incentive and reward system

Evaluation of ideas according to own criteria

Role Manager: Creating Different Roles for the Administration of Ideas

Upload of images and videos

Individual idea management process
Release and confirmation workflow

Multilingualism / Live Translate

Audit-proof documentation
How Innolytics® Continuous Improvement Software Supports Teams
Enter problems directly and instantly
Exact problem descriptions are the basis for an efficient and continuous improvement process. With the Innolytics® continuous improvement software, you can document problems via your PC, tablet or smartphone. To describe them more efficiently, you can use photos and even videos for that extra precision.
Developing proposals for solutions online
Enter suggestions for problem solutions, discuss them in a team and evaluate them according to different criteria. Innolytics® continuous improvement software enables you to complement solution ideas with images, videos, and files.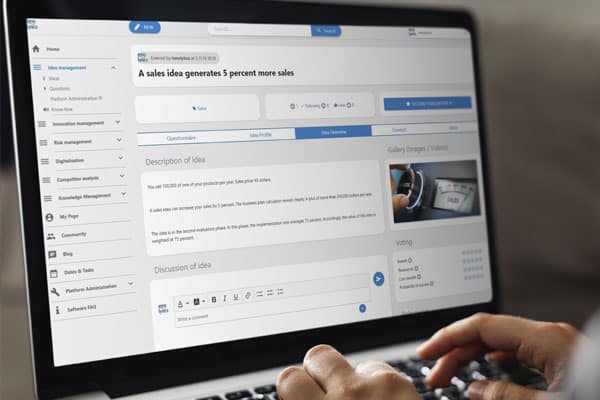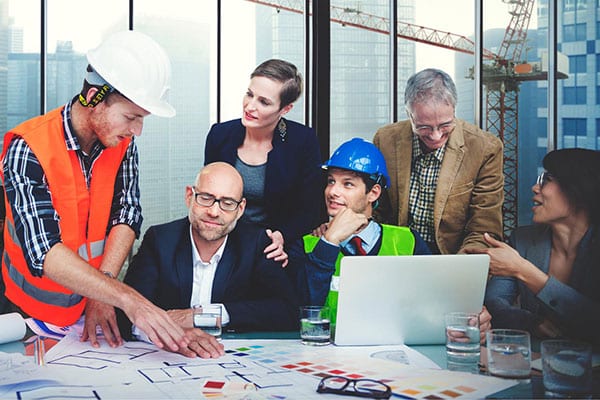 Online documentation of your continuous improvement process workshops
With your team you will work out problem descriptions and first solution ideas in the workshop. With the Innolytics® continuous improvement software, you can document the results more efficiently than ever before. Even by smartphone or tablet. Specify, discuss and evaluate the results online.
Continuous improvement software in figures
continuous improvement platforms in use
For 80 percent of all Innolytics® customers, investments return in less than six months. You are a small company or want to use the software with a few users at first? Choose the STARTER package. You want to use Innolytics® with more users or internationally? Choose PROFESSIONAL or ENTERPRISE.
Questions about Innolytics® Continuous Improvement Software
What are the benefits of continuous improvement software? Why do companies use it? In our FAQ you will find answers to the most frequently asked questions.