The Complete Guide to the Continuous Improvement Process
Learn why continuous improvement is essential for companies to succeed. Discover the principles of a highly successful continuous improvement process. Learn how to get started fast and easy with free CIP software!
Why do Companies Need a Continuous Improvement Process?
Highly efficient processes and lean structures are the most important competitive factors for organizations. Successful companies regularly put all processes and procedures to the test. They challenge the status quo, proactively search for inefficient activities, and develop unique solutions for more efficient operational processes.
The continuous improvement process plays an increasingly important role in enterprises.
Improving business performance is closely related to the concepts of idea management and process improvement.
In contrast to the concept of innovation and the method of innovation management, where progress is often achieved through technological leaps, the continuous improvement process is a far more gradual method.
Many companies establish a continuous improvement process because they have to prove structures and processes for quality optimization within the scope of an IS0 9001 certification.
But CIP is much more: it is a fundamental attitude within a company to achieve improvements of processes and products, as well as gains in quality and efficiency through continuous brainstorming and systematic idea development.
These improvements are traditionally developed by quality circles, CIP teams, and idea workshops. Due to the possibilities of digitalization, modern tools such as CI-software are increasingly being used.
Innolytics® provides organizations with an easy to start free CIP software! Up to 15 users can access the platform with no costs.
Discover more insights about continuous improvement

Discover best practice examples of continuous improvement.
History of the continuous improvement process
The idea of involving employees in process improvement has a long history. In the German-speaking world, it can be traced back to 1888. At the time, the tycoon Alfred Krupp wrote in a frequently cited publication that:
Krupp already identified one of the major problems in managing employee's suggestions: How should supervisors deal with employees who are motivated and provide suggestions, but whose ideas are either not fully developed or cannot yet be implemented? Krupp wrote:
The Influence of KAIZEN on Continuous Improvement
As a management principle, the method of continuous improvement process (CIP) is strongly inspired by the philosophy of KAIZEN.
In Japanese culture, KAIZEN (literally "change for the better") is part of the philosophy of life.
The change for the better, the quest for perfection through small steps every day.
In essence, you are already a KAIZEN supporter if you train every day and try to optimise your work processes.
The philosophy of KAIZEN has an impact on private life, too: Through continuous improvement you can perfect your home or your leisure time. It is up to you whether you want this, in any case.
The five most important questions on the continuous improvement process (CIP)
In our many years of practice, we have been confronted time and again with questions about continuous improvement and the continuous improvement process in the company. We have compiled the five most important questions and answers for you.
What is the difference between CIP and idea management?

What is a CIP team?


Is CIP the same as process optimization?


What does a CIP coach do?


What is the difference between process innovation and CIP?

Characteristics and objectives of the continuous improvement process
CIP is – and here are the parallels to KAIZEN – at its core a philosophy and not a doctrine. It is not so much a matter of ensuring that process steps are adhered to. On the contrary: CIP may be, and should be, fun! To ensure that this philosophy is not lost in day-to-day business, however, the continuous improvement process needs structures to support it. For example, specialists are needed to drive the process forward and support employees in analysing problems and developing ideas.
How can we increase our productivity? How can we get more out of our company and our processes?

Where is there potential for savings? Where can we save time so that more employees can carry out work with higher quality and priority? Where are bureaucratic hurdles to efficient work?

How can we improve our product quality or production quality?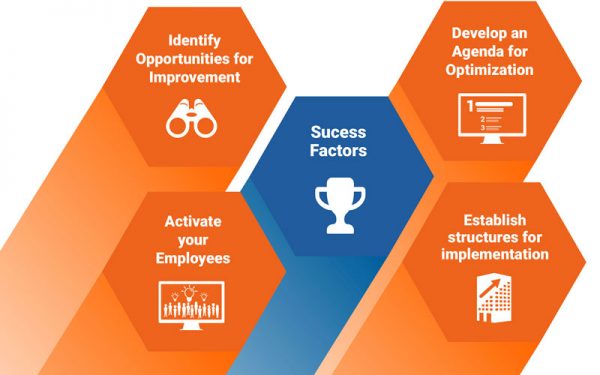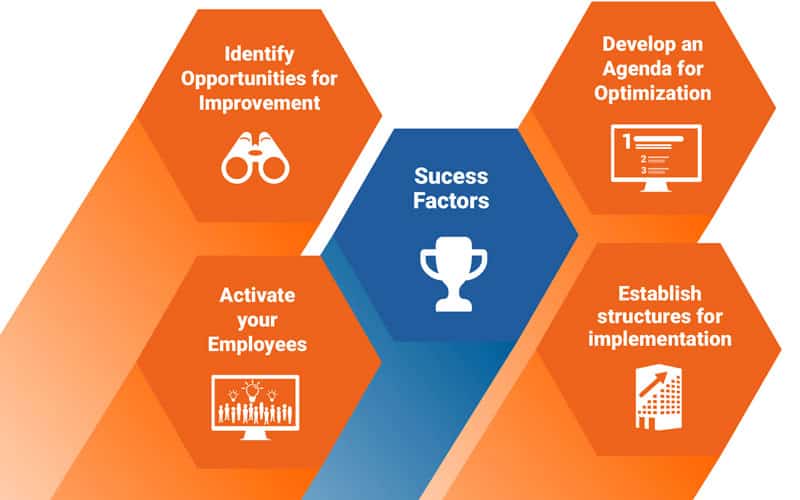 Success factors for the continuous improvement process
Amongst other things, continuous improvement specialists have the task of motivating employees, who have made intelligent and viable suggestions, to provide further ideas. The most important principle is: every suggestion is followed by a quick response with a thank you. Even if an idea is rejected, those responsible for the CIP express their gratitude in the continuous improvement process and explain the reasons for this. This is based on simple logic: anyone who expresses an idea, from which he or she does not profit directly, makes a gift to his or her company. Whoever accepts a gift without saying thank you or ignoring it does not have to expect any further gifts.
The continuous improvement process
In the first step, the continuous improvement process begins with opportunity scouting: a systematic identification of problems in workflows and processes. For this purpose, internal workshops are usually held in the form of quality circles. These are conducted by a continuous improvement manager or coach. In the quality circle, the actual status is questioned with regard to the quality and efficiency of processes and products. At the same time, solutions are sought – for example, examples of companies that have better organized certain processes. The aim of the first phase is to identify opportunities for optimization and improvement.
The second step is idea generation and concept development. For this purpose different creativity techniques are used. The ideas are further developed into concepts through in-depth questions. In the third step, the ideas are evaluated with regard to their suitability for solving the problem and their feasibility. In the fourth step, the best ideas and concepts are implemented.
Continuous improvement management: prerequisites for a successful continuous improvement process
In order for a continuous improvement process to be firmly anchored within a company, a sustainable commitment is required. The following example from a company shows how it does not work: A divisional manager asks his employees to submit suggestions for improving product and process quality by e-mail. Employees are concerned. They send their ideas. A week later they still haven't received an answer from the divisional manager. Individual solutions and ideas will be worked on in the coming weeks, while others will not. The initiative fails: A flash in the pan instead of continuous improvement. Worse still, initiatives such as these leave behind demotivated employees.
Statements such as "impertinence" and "Why should I think about it when there's no interest anyway?" show that initiatives for ideas and improvement – without a functioning CIP system – can have a demotivating effect. Even in their daily work, employees quickly get the feeling that their ideas and suggestions for solutions are not taken into consideration. Perhaps their CIP ideas just didn't fit the current agenda of an executive and were therefore ignored. This reaction – understandable from an executive's point of view – can quickly take the wind out of the sails of employees: To avoid disappointment, they prefer to remain silent. Here, the methods of the continuous improvement process offer solutions.
A good CIP system is characterised by the fact that everyone involved benefits: The company receives a large number of suggestions for improvement, the individual employees feel as if they are being taken seriously and are able to develop, which increases their motivation and improves the working atmosphere.
saves costs by simplifying workflows, reducing unnecessary expenses and making bureaucratic procedures more efficient

begins a process of continuous self-optimisation and improvement that contributes to achieving economic goals

involves employees in the continuous improvement process and thus creates an awareness of entrepreneurial thinking
have an opportunity to design and improve their own working environment through CIP

get the feeling of being heard and needed, which has a significant influence on their satisfaction and motivation

can benefit from the savings in the form of recognition or even rewards
Take the test: How well is your CIP anchored in your corporate culture?
The following 10 questions are intended to help you assess whether your corporate culture promotes or hinders CIP. Assess the situation as realistically as possible. For example, if it says "Even unusual suggestions and ideas are welcome", you only answer with "Yes" if no one in your company laughs, twists their eyes, moans or something similar in the case of "weird" ideas.
The further the answers are to the right, the more KVP is included as a philosophy in your corporate culture.
The more left the answers are, the less cultural support for a continuous improvement process.
| | No | Doesn't work so well | Partially | We are on our way | Yes |
| --- | --- | --- | --- | --- | --- |
| We have clear improvement targets in our continuous improvement process | | | | | |
| We systematically search for problems | | | | | |
| We thoroughly analyze problems before we develop solution ideas | | | | | |
| Our CI teams take the time to be creative and spin ideas. | | | | | |
| Ideas are collected and evaluated separately | | | | | |
| Even unusual ideas and solutions are welcome | | | | | |
| Ideas are taken up and further developed in the continuous improvement process | | | | | |
| Destructive and personal criticism is rejected | | | | | |
| Transparency prevails in our company – knowledge and ideas are exchanged | | | | | |
| We use software to network employees with each other. | | | | | |
Download this table for internal use!
Developing solution ideas in the continuous improvement process
Ideas can be developed in workshops or via a continuous improvement software – the process is essentially the same. The problems presented are first discussed and prioritised, based on the following question: Which problems are part of the continuous improvement process and which can be solved better on site? It is advisable to divide the solution development phase in the CIP or CI-software into three phases: Ideas, topics and decisions.

1. Collection of ideas in the continual improvement process
In this first phase, the idea is to generate as many ideas and solutions as possible for problems. Creative techniques can help here. The following rules apply to this first phase during solution generation in the continuous improvement process: The ideas are neither evaluated nor commented on. Any attempt at a discussion is prevented by the indication that it will be discussed later. In this phase, the moderator primarily gives keywords or asks questions and applies various creative techniques. This phase of collecting ideas should not take up more than two thirds of the total time, because otherwise there is not enough time for discussions and decisions.
2. Evaluation and development of ideas in the continual improvement process
In the second phase, the generated ideas are summarised and evaluated. The participants will discuss which suggestions are good or not so good and will jointly consider which solutions can be implemented. This also includes aspects of feasibility and financing, with killer phrases still banned. It is important to ensure that the discussion remains focused: Detailed questions and lengthy technical discussions often lead to little concrete results for the continuous improvement process. The aim of the discussion is not that everyone should express their opinion on a given proposal, and that it should be clear at the end that there are many views. The aim is to evaluate the different ideas and approaches and develop solutions that can then be decided upon.
3. Decision on proposals to be implemented
At the end of the discussion phase, a decision will be taken in the CIP. The transition is often not easy because sometimes discussions can be fiery and drawn out, flaring up again and again. The basic principle is that the decision is taken when all important points are made. Detailed questions can be discussed later. Two approaches have emerged:
Sorting out by negative list

Further development of the best ideas
In the negative list, the question is: "Which solutions are out of the question?" With the positive approach: "Which solutions have potential?" With the negative list, there is a risk that proposals for solutions may fail, which would have produced good results despite initial concerns about the continuous improvement process. At the end of the day, it may be difficult to make a decision about the reverse approach. In the Innolytics® continuous improvement software, various criteria can be defined for the decision-making phase. Ideas can be evaluated and prioritised later, taking these criteria into account.
Typical roles in the continuous improvement process
In the continuous improvement process, managers and experts have a number of roles to play. In the CIP, they are primarily the catalysts for problem discussions and new ideas: Ask questions, apply creative techniques, and collect a multitude of insights and ideas. However, they also have other functions.
The number and quality of ideas is largely determined by how the CIP experts perform their various roles. Leading a continuous improvement team is a constant balancing act between dominant leadership and open dialogue. Too dominant a team leader can quickly stifle ideas, too open a conversation and risk losing the goal. By the way: The more creative and clearer the questions are, the more creative the ideas of the participants in the continuous improvement process.
Further roles in a continuous improvement process team
The efficiency of a CIP team can be further increased by having a certain composition. For example, if a team is made up exclusively of idea spinners, many ideas and suggestions come out in the end, but that does not necessarily mean they will be feasible decisions. Conversely, if too many decision-makers are in a CIP team, there is a risk of permanent discussion. The end result is a decision, but it is at the expense of the diversity of ideas. A CIP team can fully exploit its creative potential if three important poles are represented.
The inspirer and mediator

He brings the topics and fragments of ideas into the CIP discussion. He opens, directs, and concludes topics. He ensures that the idea spinners do not lose sight of the goal and at the same time ensures that the decision-makers do not discuss ideas and proposals for solutions before they have even been able to develop. Practical experience of the continuous improvement process has shown that a discussion about whether the topic to be discussed is an issue at all is already emerging at the very beginning. Here, it has proven to be helpful if the inspirer and mediator takes the wind out of the sails of the critics by adopting a positive view of all negative criticism and writing it down as a quasi-idea, or by refusing to allow criticism and pointing out that the discussion in the CIP process will only take place later.

The spinner of ideas

In almost every company there are the "colorful birds", those who stand out for their dexterity, which sometimes borders on disrespect. These thinkers can sit at their own workstations or in other departments. They can be employees from finance and accounting, marketing or sales, technology or field service who bring in ideas for problems in other areas. Ideas are motivated by fun. The prospect of participating in a creative session, laughing for 30 minutes and juggling crazy ideas brings them to life. They take every opportunity to escape from monotonous or routine work. If you have such employees in the company: Invite them! Also, for non-technical questions! You will be surprised how many unusual ideas you get in the continuous improvement process.

The Machiner

An efficient, creative CIP team is characterised by the fact that participants formulate their ideas in the form of solutions and immediately begin to implement them. Ideally, team members already have an idea of who can implement the ideas and how the proposed solutions can be implemented in the daily routine. Doers in the continuous improvement process can bring discussions and the development of ideas forward in a targeted manner by asking for suggestions regarding the implementation of certain ideas.
Barriers in the continuous improvement process
In order to involve employees in the continuous improvement process in a targeted manner, they must be, on the one hand, motivated, and on the other hand, barriers must be removed that prevent individuals from providing ideas: Information barriers, ability barriers, will barriers and risk barriers are four obstacles that are repeatedly mentioned in specialist literature.
Information barriers as an obstacle in the CIP
Only a small number of employees are really informed and knowledgeable about the business challenges a company has to face, which strategies it wants to use to assert itself on the market, and how each individual can contribute to the achievement of the company's goals through suggestions for improvement and ideas.
Whether with or without an established CIP or a lived continuous improvement process: there may be good reasons for not disclosing every detail of a corporate strategy to employees, but in many companies, knowledge remains behind the closed doors of management or divisional management. A certain degree of transparency is essential in order to encourage employees to think for themselves, and subsequently for the company:
How much more precisely must the company become more efficient or better in terms of quality?

How many savings or quality improvements could be achieved with the currently available and implemented solution proposals?

How much more efficient are individual departments or divisions?

How does a particular company perform in comparison to its competitors?

How do competitors benefit from the continuous improvement process? Where did your CIP give you a head start?
From the point of view of management, it is often argued that they do not want to cause unrest amongst their, employees and therefore keep such issues under lock and key. This often leads to the following: Employees hear rumours, and then they try to interpret signals and ask themselves why they are not informed. Fear of what may come becomes the dominant theme. Greater transparency can trigger thought processes, fear leads to blockages. CIP as a philosophy, represented in a continuous improvement process, needs transparency about the challenges and goals of a company or department.
Ability barriers for members of continuous improvement teams
Identifying opportunities for improvement, defining them as problems, and pointing out alternatives are essential skills necessary to develop continuous ideas for improvement in the CIP. These skills are not equally well-developed or trained by all employees. There are employees who know every weak point of a production process and regularly criticise existing conditions, yet they are unable to accept the problems as a challenge and solve them. Within the company, they are often regarded as naggers. This is wrong: You have a distinct ability to recognize problems – for example, in a production process. Science calls this creative ability "problem sensitivity". In CIP, this ability is particularly important in the phase of problem identification and analysis. The alternative would be employees who are not critical of their own company: Existing conditions are accepted as given. Although employees with a low level of problem-sensitivity notice that conferences are too long, bureaucratic obstacles complicate the work, or that more money is spent on certain services than is necessary, they see no opportunity for optimisation. In the continuous improvement process, it is important that employees are assigned according to their abilities. Some are good at criticising, others are good at finding solutions. It is not necessary for an employee to possess both skills.
Ability barriers can be removed by CIP. For example, by means of a newsletter in which practical examples are presented: Which quality problems were identified within a certain team? What solutions have been developed? How was the solution implemented? "We are currently planning an internal bureaucracy TÜV and are trying to simplify work processes. If you have any ideas on how we can all make our work a little easier, I'd be happy."
It might takes some time initially, until employees are sensitised to discover and formulate opportunities for improvement.
Will barriers as a brake in the CIP
A certain inertia and unwillingness to change is part of the human being. There are employees whose comfort is more pronounced than that of others who, over time, have developed an indifference to events and now harbor a certain resentment towards the company. This phenomenon, which in many cases is tantamount to an internal resignation, can be based on a fundamental conflict between the requirements of corporate management and one's own goals, on personal frustration or a rejection of colleagues or superiors.
The continuous improvement process can help to remove such barriers. It is important that employees have fun with the CIP philosophy. Do not make your CIP a compulsory exercise! Use your continuous improvement process as a driving force for a corporate culture that promotes ideas and change!
Risk barriers: When CIP becomes dangerous
In the rarest of cases, CIP staff will tend to be cannibalised, i. e. to submit proposals that make their own workplace or the workplaces of colleagues superfluous. Employees will also rarely come up with ideas whose realization would mean that they, or their role, would have to change seriously. These so-called risk barriers (i. e. the fear of attaining personal disadvantages through suggestions for improvement) are repeatedly cited by those responsible in the continuous improvement process as the greatest obstacle.
Conclusion: Barriers in the CIP can be overcome
These barriers can only be slowly dismantled through openness and transparency. In a company climate characterised by fear, employees will look with suspicion at every request to submit suggestions for improvement. By contrast, the continuous improvement process can greatly benefit from an atmosphere of trust and fairness. The use of working groups can also help to remove barriers: If several employees work together to analyse the situation of a certain area or develop proposals to optimise workflows, the barriers are reduced.
Initially, it is often necessary for a supervisor to get used to a positive reaction to a suggestion for improvement in the CIP, especially if this can be interpreted as a weakness of one's own behaviour or leadership competence. Supervisors who want to use the instrument of the continuous improvement process to optimise their work must first of all abandon the idea that they are familiar with all processes within their organisation, that they alone can ensure that an organisation works efficiently and can react immediately to changes and adapt the work of the organisation.