What is Digital Transformation?
A brief explanation and introduction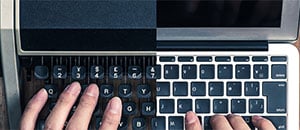 Definition of Digital Transformation
Digital transformation is the transition of economy and society, which are characterized by the use of analog technologies, into the age of digitalization. In contrast to digital disruption, which describes a radical change in markets, digital transformation is an evolutionary process.
In this article you will learn what digital transformation means, how companies can develop digital strategies and what distinguishes digital innovation from previous forms of business innovation. You will learn how companies and their employees can successfully manage digital transformation.
Digital Transformation in Enterprises
The digital transformation in companies takes place on different levels. It concerns the development of innovative digital processes and procedures, digital service innovations as well as digital business models.
The first stage of digital transformation is the digitization of existing processes and procedures. In the analog world, these were primarily organized by procedural rules and forms. In digital transformation, these processes and workflows are increasingly modeled by digital workflows. However, previous analog processes and workflows are not adopted one-to-one into the digital world. In digital transformation, processes and procedures must be rethought with the help of existing digital technologies such as the Internet of things, the blockchain or artificial intelligence. In some cases radically new procedures and processes must be implemented. This often goes hand in hand with a fundamental restructuring of companies: the responsibilities and roles of employees are changed in the course of digital transformation, and new responsibilities are created.
Digital transformation of customer relationships
Marketing and sales are undergoing a major change, driven by a change in the information behavior of customers. Numerous new disciplines such as Search Engine Optimization and Inbound Marketing have emerged in recent years. They continue to gain in importance. The so-called Customer Journey, i.e. the individual experience of customers on the way from the search for information to purchasing and using a product or service, is becoming a central component of marketing and sales. The digital transformation requires the development of new competencies.
Development of digital services
Digital services represent a significant competitive advantage in the future. Companies make it easier for their customers to handle certain goods and services, they solve problems that emerge in the context of using a certain product or offer. Examples include the digital recipe advisor of a manufacturer of kitchen equipment, customer portals and communities, and e-learning academies on topics that interest customers in connection with product use or a specific service.
The digital transformation also changes the creation of value of companies. Digital services, which can be monetarized by companies, are independent sources of income. An example of this is the freemium version of a software. While the use of basic functions is free of charge, the use of additional features is subject to a fee.
Companies can manage digital transformation sequentially or at all levels simultaneously. It is important to have a clear digital innovation strategy which is supported by trend analyses and digital technology management.
Digital transformation of divisions and departments
Digital transformation affects the entire enterprise. In this section you will learn how the different departments of companies will change in the coming years.
Digital transformation in Management
In the coming years, the most important task of company management will be to drive digital transformation at all levels of companies: Processes and procedures, organizational structures, development of digital marketing and sales, digital service offerings and digital business models. The corporate and innovation strategy will be complemented by a digital strategy. Top management is also responsible for providing the necessary resources for the digital transformation and for promoting investments among shareholders and the Supervisory Board.
Digital transformation of production
The technologies of the Internet of Things will further digitize and automate production facilities in the coming years. The Industry 4.0 concept provides for a complete integration of the value chain – from incoming orders through production to delivery. In production, digitalization serves to react faster and more agilely to new requirements. Technologies such as 3D printing will be part of this digital transformation of production. Management disciplines such as innovation management and product development will be closely linked to digitalization.
Digital transformation in marketing and sales
Digital transformation has significantly changed the decision-making process on the customer side in recent years. Today, the search for information primarily takes place on the Internet. In the course of digital transformation in marketing, it is important to influence customers at the various stages of this decision-making process with relevant information. The digital transformation also has an impact on sales. So-called "cold calls" are becoming less and less important. Lead generation increasingly takes place via the company's own homepage. Inbound marketing and sales are growing together.
Digital transformation in Human Resources
The digital transformation has two central effects on human resources: On the one hand, increasing transparency (e.g. portals for employer evaluation) is intensifying the competition for skilled workers. The personnel department must respond to this with proactive concepts for personnel recruitment and employer branding. On the other hand, it is increasingly necessary to strengthen and develop the digital skills of employees. In many companies, the development of an innovation culture and the establishment of innovation networks is increasingly becoming a responsibility of the human resources department.
Digital transformation in customer service
In customer service, there will be different forms of digital transformation in the coming years. Simple requests will increasingly be answered by chatbots and online services. However, in areas where customer service is an essential part of products or services, the qualification of service employees to become Customer Success Managers will be pursued.
Digital transformation management software
Innolytics® helps companies to manage the digital transformation across the different divisions of their organization. The Innolytics® innovation management software helps to establish and manage innovation networks. Ideas can be developed and evaluated collectively for different business areas. The software supports companies in creating a digital roadmap and implementing digital innovation strategies. The platform can be created within a very short time, teams can start their work immediately. The software is permanently free of charge for up to 15 users*.