A brief explanation and introduction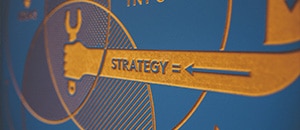 An innovation strategy is crucial for companies to carry out innovation activities efficiently and purposefully.
It is the prerequisite for the development of successful innovation management and the definition of an innovation process.
The establishment of an innovation strategy is an essential element of ISO 56002, which has been a guideline for the creation of an innovation management system starting in 2019.
In this article, you will learn how to develop an innovation strategy for your company, department, or team.
What is an innovation strategy?
In an innovation strategy, strategic future topics and fields of innovation are defined. Challenges are also identified; for example, those arising from digitalization and the resulting digital transformation within the enterprise.
The innovation strategy is a part of the corporate strategy. All activities and goals that a company wants to implement to develop innovative products, new business areas, and more effective processes in the long term are defined. The necessary steps to achieve the goals are described in a concept.
With an innovation strategy, companies and organizations define which new products, services, and processes they want to develop in the coming years. It serves to align the development of innovations with future corporate goals. In ISO 56002, the international standard for innovation management systems, the definition of an innovation strategy is one of the main elements.
Why does a company need an innovation strategy?
In recent years, the demands on innovation management in companies have increased.
Without a clear innovation strategy, companies run the permanent risk of losing the focus of their activities. An explicit innovation strategy supports companies in aligning their activities towards clearly defined and measurable goals.
Advantage 1: Innovation strategies result in a clear focus
An explicit innovation strategy helps,
An innovation strategy creates the necessary focus to use resources efficiently. This is important because innovation always involves a higher risk than other activities. Accordingly, a clear innovation strategy reduces the number of failures.
Advantage 2:
An innovation strategy makes innovation measurable
The establishment of a system to measure innovation is important for efficient innovation management and is an essential principle of ISO 56002. The concept, which also underlies other management systems such as ISO 9001: 2015, is to monitor success using clearly measurable indicators.
By defining an innovation strategy,
companies set targets that they want to achieve through innovation activities in the different areas of their business,
establish milestones for the implementation of innovation projects, and
allow the development of targeted, measurable criteria for measuring innovation.
Without an innovation strategy, the development of effective innovation monitoring is tough. Companies that do not know what they want to measure naturally have a much harder time than those that know their success parameters exactly.
Advantage 3:
An innovation strategy promotes the innovation culture
An important part of ISO 56002 is the establishment of an innovation culture. Among other things, this culture is characterized by
the openness and curiosity of employees,
an encouragement to experiment and challenge the status quo,
the willingness to take risks and learn from mistakes.
An innovation strategy helps companies to move their innovation culture in the right direction:
What exactly should employees be open to? In which way should they be curious about current developments?
What kind of experiments should the innovation culture support? Exactly which common assumptions should be challenged?
What risks should employees take?
Companies that are certified to ISO 9001:2015, for example, can often experience perceived contradictions when introducing a management system in accordance with ISO 56002: While one standard encourages them to define potential risks and act in a risk-conscious manner, the other promotes risk-taking.
In order to overcome this contradiction, an innovation strategy defines what kind of risks can be taken by employees and within which scope.
How to develop an innovation strategy
Companies developing an innovation strategy should answer key strategic questions, analyze future trends relevant to their business, watch out for hidden customer needs and prepare a list of the competencies they need to develop innovation successfully. Especially in times of digital change and digital disruption it is important to regularly develop and modify an innovation strategy.
Which future trends are important for a specific innovation strategy?
The development of an innovation strategy is significantly influenced by future trends. Analyzing these trends, observing them and evaluating the effects on one's own business model are essential to develop an innovation strategy.
Typical sources for trends are:
Regularly published studies by trend research institutes and futurologists,
reports on long-term trends within an industry, often published by specialized consulting firms,
articles in the daily and trade press,
regular exchanges with suppliers, visiting trade fairs or discussions in Internet forums,
observations of start-ups operating in your industry.
Keep track of social and technical developments in your industry. In the process of developing your individual innovation strategy it is important to evaluate trends. The Innolytics® Innovation Management Software helps you to collect, discuss and the trend evaluation process.
Which of your competencies will lead to a sustainable competitive advantage in the future?
The analysis of your competencies shows you what your company could achieve on the basis of existing knowledge in the various areas (product development, production, sales, logistics, etc.). It's an important aspect when developing an innovation strategy because your competencies will be key to successful innovation. One of the key questions to ask is this: "Which opportunities arise from what we are currently doing?"
To do this, ask yourself the following questions:
What are we doing today? List all the activities and sub-activities you carry out today.
What know-how is behind these activities? Make a note of what enables you to carry out these activities.
What are the general benefits of this know-how? Evaluate the potential of transferring your know-how to other business areas.
What concrete innovation opportunities can be derived from your competencies? Think about which new products or offers you can develop on the basis of your know-how.
To develop your innovation strategy, consider how you can transfer your expertise to other market segments or industries and use it profitably. Or how you can generate a market based on your know-how.
What hidden customer are the base for the development of an innovation strategy?
A successful innovation strategy is based on identifying hidden customer needs and developing offerings to meet those needs. However, the advice "Find out what your customers need" is easier said than done. Often it is not that easy. You must drill deeper.
Innovation is often based on hidden needs that even customers do not yet know.
Did you miss the opportunity to send a text message on your mobile phone 20 years ago?
Did you feel that your life was virtually impossible without navigation devices?
How many times have you called your favorite coffee maker before the invention of Nespresso and said, "I would like to have a coffee capsule system where I can no longer buy my coffee in the store, but only over the Internet."
How often did you knock on the door of your local furniture retailer when you were young, shouting, "Let your customers assemble the furniture themselves!"
In developing an innovation strategy based primarily on incremental innovation, ask customers: "What would you like to improve about our product?" Or, "How much time does it take?" Radical innovation often goes one step further. Customer needs exist, but they are articulated through the interviewer's observations and theses. The following questions will help you identify hidden customer needs as the foundation of your innovation strategy.
Another way to identify hidden customer needs is to develop innovation through collaboration with your customers. In innovation management, this is referred to as "co-creation". Thus, customer needs flow directly into your innovation strategy.
Questions Underlying Incremental Innovation
Questions Underlying Radical Innovation
What will customers want tomorrow?
What are customers complaining about?
What is difficult for customers without their being aware of it?
What can we ask customers?
What can we observe with customers?
Why do my customers like me?
Why are my non-customers rejecting me?
Which new target groups can we address?
Which new target groups can we create?
What does market research tell us about our customers?
What does market research NOT tell us about our customers?
Useful advice for building a successful innovation strategy
The Innolytics® innovation software and idea management software supports companies in developing and successfully implementing innovation strategies: From the analysis of hidden customer needs, idea generation, and idea development to successful implementation. The software supports all stages of modern innovation management.
It allows the development of transparent innovation processes as well as innovation management and measurement. The software increases the innovation capability of companies.
Involve employees at different levels: All of them jointly shape the process of building up the innovation strategy.
Form cross-departmental teams: This way, the creative potential from the different departments is optimally used.
Motivate your teams: With enthusiasm and a positive attitude, everyone is actively involved in implementing the innovation strategy.
With the Innolytics® innovation management software, you can turn strategy development into a vivid interactive process – a significant advantage when developing an innovation strategy.